Map Unavailable
Date
19/01/2023
7:00 pm - 9:30 pm
Location
Reading Biscuit Factory
1 Queens Walk
Reading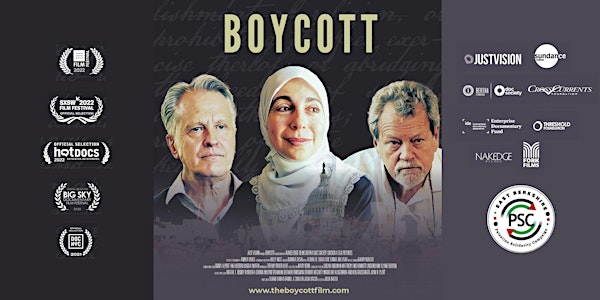 Thursday 19 January 2023 – Reading Biscuit Factory, RG1 7QE – 7pm till 9.30pm
Join East Berkshire PSC for a screening of the acclaimed film 'Boycott'.
When a news publisher in Arkansas, an attorney in Arizona, and a speech therapist in Texas are told they must choose between their jobs and their political beliefs, they launch legal battles that expose an attack on freedom of speech across 34 states in America.
Boycott traces the impact of state legislation designed to penalize individuals and companies that choose to boycott Israel due to its human rights record. A legal thriller with "accidental plaintiffs" at the center of the story, Boycott is a bracing look at the far-reaching implications of anti-boycott legislation and an inspiring tale of everyday Americans standing up to protect our rights in an age of shifting politics and threats to freedom of speech.
This kind of legislation is very likely to affect the UK soon as new bills are passed which limit our freedoms.
We will also have a speaker from national PSC to discuss the film.
Zaytoun products will be on sale (please bring cash) and you can help yourselves to free literature.